This book now represents the 3rd, 4th and 8th highest prices paid for a comic book.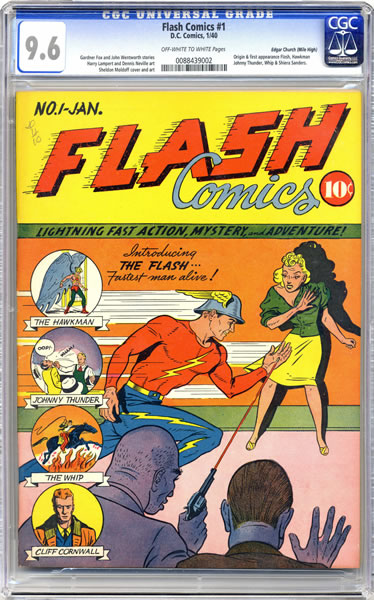 Here's what Heritage had to say:
Six-Figure Profit for Seller Through New Heritage Service

(Dallas, Texas) — A pristine condition copy of Flash Comics #1 sold privately for $450,000 on March 12, 2010 through an efficient new service designed to unite successful bidders from earlier auctions with eager new buyers, according to Heritage Auctions of Dallas, Texas.

The seller had originally obtained it for $273,125 in a January 2006 Heritage auction, and the buyer initiated this latest purchase directly through the new "Make Offer to Owner" (MOtO) feature available in Heritage's Permanent Auction Archive at HA.com.

"This is the finest known copy of the 1940 DC Comics first appearance of the Flash and Hawkman," said Ed Jaster, Vice President of Heritage Auctions. "It's graded by CGC as Near Mint Plus 9.6, and it was part of the famous Edgar Church 'Mile High' Collection, universally considered the finest comic book collection of all-time."

Names of the buyer and seller were not released.

"The offer to purchase Flash #1 reached Heritage through MOtO, a new feature still in Beta test mode on our web site," said Greg Rohan, President of Heritage Auctions.

"Any Heritage member who sees an auction lot from a past Heritage auction can anonymously offer the owner a profit through the MOtO feature," said Rohan. "Owners can set a fixed price minimum, or opt out completely from receiving offers. In this case, the owner couldn't resist this very fair offer for a six-figure profit after four years. He plans to use the money to purchase other items for his comic book collection."

"Since this is, by far, the finest known copy of Flash #1, one of the 10 most valuable comic book issues, the buyer recognized this as a unique opportunity," said Jaster. "We created MoTO with this sort of unique item in mind. We'd often hear from collectors who are new to the hobby or are expanding into another area of collectibles and were frustrated because items they'd like to own were previously sold years earlier. With this new service, many of those top items may be available now as long as the buyer is willing to pay a fair price."

The Make Offer to Owner feature also is available for other Heritage auction areas, such as coins, stamps, sports memorabilia, natural history, jewelry and art.

Heritage holds the record for selling the world's most valuable comic book, $1,075,500 for Detective Comics #27 with the first appearance of Batman, in the recent $5.6 million February 2010 auction, which broke Heritage's own Guinness World's Record for the all-time most valuable comic book auction.